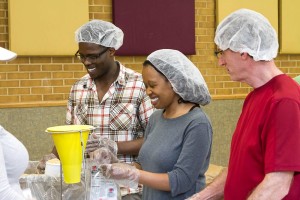 In partnership with Global Youth Service Day 2015, Boundless Impact recruited students from area colleges to volunteer for a Stop Hunger Now meal-packaging event on Saturday, April 18th. Students from Bennett College, UNCG and Guilford College joined the group of over 200 volunteers at Christ United Methodist Church to put together the meals. Global Youth Service Day is the largest service event in the world, inspiring youth from all around the world to come together on one weekend to make their communities healthier, greener, smarter, fairer, cleaner, and safer.
While enjoying background music by everyone from the Black Eyed Peas to Bruno Mars, volunteers of various ages and ethnicities worked together to assemble bags of vitamins, soy, vegetables, and rice. Amidst laughter and storytelling, each table developed its own rhythm for putting the bags together in an assembly-line fashion. Sierra Long, a junior from Bennett College, found herself surprised by the collective enthusiasm, stating, "This is actually a lot of fun!"
After the bags were filled, runners carried them to weigh stations where seated volunteers carefully weighed each, adding or removing rice in order to ensure that they were properly measured for shipping. After weighing, another group of volunteers took the open bags, sealing them tightly with tabletop heat seal machines before placing them in boxes for shipping. The final step was carrying the sealed boxes to a truck that was parked outside, ready to transport the meals to a distribution center.
Over the course of the 7 hour work day, nearly 53,000 meals were packaged and prepared to be shipped to several different countries, including Nicaragua and Haiti. Draya Sherer, a senior Business major from Bennett College, said "I enjoyed helping all the countries that were less fortunate! Packaging food items has taught me a lot about nutrition and how having access to the right foods is important for everyone!"