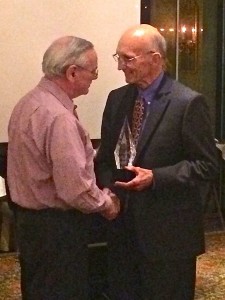 Boundless Impact has selected Bishop Larry M. Goodpaster of the Western North Carolina Conference of the United Methodist Church to receive the 2014 Ray of Light Award. The award recognizes an individual who exemplifies the organization's mission of building bridges for a vibrant and thriving North Carolina that is inclusive, diverse and globally engaged.
During his 6 years of leadership in North Carolina, Bishop Goodpaster has been a driving force in building bridges across boundaries throughout the United Methodist Church. In all aspects of his leadership – whether taking groups of young clergy to Israel and the West Bank or planting and expanding churches in Cambodia – Bishop Goodpaster's commitment to global engagement and celebrating diversity sets an example of global leadership for others to emulate.
The Ray of Light award was presented to Bishop Goodpaster at the FlameBuilders Launch Banquet, a celebration of the pilot launch of the FlameBuilders leadership program, hosted by Boundless Impact on Sept. 13 at the O. Henry Hotel in Greensboro, N.C. At the event, partner organizations of FlameBuilders shared information about the global faith-based lay leadership program for young adults. Bishop Goodpaster received the award from Boundless Impact Board Chair John A. (Pete) Eberhart, a statewide K-12 education leader in North Carolina and Virginia, and longtime advocate for international education. Dr. Eberhart was the Superintendent of Greensboro City Schools when it merged with Guilford County School System in 1993.
The Western NC Conference of the United Methodist Church includes over 1,100 congregations representing over 300.000 members. Bishop Goodpaster served as President of the Council of Bishops from 2010-2012, which includes all bishops from around the world. He has served on the UM General Commission on Religion and Race, the General Board of Global Ministries and as President of the UM Development Fund Board of Directors. Bishop Goodpaster also serves as President of the Board of JustPeace: Center for Mediation and Conflict Transformation in Washington, DC. In 2014, he joined the board of Educational Opportunities (EO) Tours in Lakeland, Florida. At the 2014 WNCC Annual Conference, Bishop Goodpaster committed to making future clergy appointments without regard to race, age, gender or socio-economic representation of the congregation. This announcement was greeted by a standing ovation from delegates to the Annual Conference.
Boundless Impact fosters a vibrant and thriving North Carolina that is inclusive, diverse and globally engaged. The organization's boundary-spanning initiatives include the Global Schools Network, a K-12 international education collaboration; the Global Opportunities Summit, convening leaders across sectors to create a compelling global identity for NC; and FlameBuilders, a global faith-based leadership program currently being piloted in the United Methodist Church.